Lankayan Island - A tropical paradise off the coast of Borneo
Lankayan Island is another gift of nature to Borneo. The small island is about 20 kilometres from the coast of the Sulu Sea. It is especially well known among divers but also an exciting destination for tranquillity-seeking non-divers. Lankayan is completely covered with tropical island vegetation and surrounded by white sandy beaches. Already in 2001, the area around Lankayan was declared a protected area. Since then, fishing has been prohibited, and significant efforts are being made to protect the turtles.
Most visitors come to Lankayan for diving. And there are many good reasons for that. After all, it is quite a varied diving adventure. Macro fans and friends of big pelagic fish get their money's worth. Blacktip reef sharks, barracudas, rays, or jacks are among the much-seen species here as well as various crabs and nudibranchs, parrotfish and lionfish or roundheaded violin rays. The chance of sighting whale sharks is also why many visit the remote island. Colourful, completely unspoiled coral reefs put the crown on it all.
Lankayan is worth visiting, even for non-divers
But even if you don't dive, Pulau Lankayan can be worth a visit. This unspoiled paradise boasts a gorgeous beach, the likes of which you're unlikely to see anywhere else. And since many guests spend large parts of the day underwater, those seeking peace are guaranteed a relaxing, solitary time.
Possible activities include kayaking or snorkelling. Many coral reefs are located in shallow water so you can observe the colourful hustle and bustle even without diving. With a little luck, you may also encounter baby blacktip reef sharks in the shallow water on the beach. Romantic beach walks around the island are another great way to enjoy peace and seclusion.
Dive sites around the island
Not only is the underwater life abundant around Lankayan. With over 30 dive spots, there is also a wide selection. Several wreck dive sites are located close to the island. Here you can see almost everything, from whale sharks to tiny nudibranchs. Below we present some of the most exciting dive spots.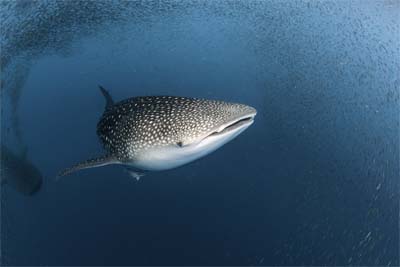 A few minutes west of Lankayan, you will find this dive spot. At Lankayan Wreck, a sunken fishing boat awaits you, which is now home to various fish. The diving depth is about 20 meters. Between March and May, you can be lucky and see whale sharks here.
Jawfish Lair is also located close to the island and can be reached after a few minutes. It is a dreamlike place with lots of different kinds of stony corals. Besides an impressive amount of small fish, you can find leopard and whitetip reef sharks as well as rays here.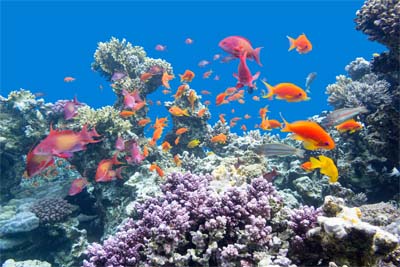 The sunken ship dates back to World War II and was part of the Japanese Mosquito warship fleet. It is worthwhile not only to have eyes for the marine life here but also to take a closer look at the ship. Many parts are still amazingly well preserved, for example, the cannon at the bow.
The name already suggests it: Moray eels are very common here. Search the reef for crevices or caves, and you will surely see some moray eels. Moray Reef is a bit further away from the island and even less frequented than the other dive spots.
Another wreck is located directly at the Jetty and close to the resort. Here you can dive all day without needing a boat. For safety, a rope leads down to the former fishing boat. Lionfish or blue spotted rays can often be seen here.
The protection of turtles is essential in this area
The waters around the island are teeming with turtles. Green sea turtles are especially common. And so, it is not surprising that Lankayan Island is their nesting site. After the animals have laid their eggs on the beach, they are collected by the sanctuary employees and reburied in a protected area. Once the young have hatched, they are counted and safely released into the sea. This is to prevent predation and poaching and to support the turtle population. Guests to the island have the chance to see hatchlings from approximately June to September.
Diving season in Lankayan
The hotel is in operation all year round. Diving is also possible all year round. However, the best time for diving is during the drier season, from March to October. Then the visibility is also better than during the rainy season, as the many quite close river mouths make for poorer visibility during the rainy season.
From March to May, you have the chance to dive with whale sharks. Accordingly, this is the best time to visit Lankayan.
In our article on the best time to travel to Borneo, you will also learn when you should visit Borneo if you also want to experience nature.
Accommodation on the island
You have no choice when it comes to accommodation. Lankayan Island Dive Resort is the only hotel on the small island. It is an excellent, upscale accommodation with just over 40 rooms. Guests have a choice of dive and non-dive packages. Dive packages include any number of dives and equipment.
We recommend booking early. Only 60 guests are allowed on the famous island. And since Lankayan is also very popular with non-divers thanks to its fantastic beaches, the rooms are booked out quickly.
Arrival is via Sandakan. There are several daily flights from Kuala Lumpur or Kota Kinabalu. Alternatively, you can take a long-distance bus from Tawau or KK. From Sandakan, you can take a speedboat to Lankayan Island. The boat departs daily at 10 am from Sandakan Yacht Club. Please ask for the departure time before arrival, as it can change. Depending on the weather, the crossing takes about 90 minutes to a maximum of 2 hours.
In the past, including recent ones, there have been kidnappings and attempted kidnappings in the marine area between the Southern Philippines and Sabah. The area also includes Lankayan Island. Many countries have therefore advised their citizens against travelling there for years. Please check the travel and security advice of the relevant ministry in your home country.
Our recommendation for Lankayan Island
Every diver and beach vacationer should consider a visit to Pulau Lankayan. The island is a small, secluded paradise and offers a first-class vacation experience. However, if you need a lot of variety, this is not the place for you.
The boat crossing from Sandakan departs daily at 10 am. This must be taken into account when booking flights. Although there is a very early flight from Kota Kinabalu (arriving around 8 am), there is still the risk of missing the boat if the flight is delayed.
Therefore, we think planning a stopover in Sandakan or the surrounding area is advisable on the way there. Around Sandakan is a lot to experience, e.g., the Sepilok Orangutan Rehabilitation Centre or the Bornean Sun Bear Conservation Centre. On the way back, you leave the island already at 7 am. With some buffer, you can book flights from noon.
More highlights are waiting for you in Borneo. Have a look at the following.