Layang Layang Island is known as a prime diving-destination
Located about 300 kilometres northwest of Kota Kinabalu, Layang Layang is a small diving gem in the middle of the South China Sea. The remote island consists only of a dive hotel, an airstrip, and a Malaysian naval base. Diving is the only reason to visit the island. Layang Layang Island is surrounded by about 2,000 meters of deep water. This is the reason for the rich biodiversity around the island, and it promises one of the most exciting diving experiences in the world. Since the island is away from civilization, the corals are fully intact, fish are abundant, and the water is clean with clear visibility. Also, due to the few tourists on the island, an undisturbed diving adventure is guaranteed.
Hammerhead sharks are the biggest highlight and the reason many visitors come here. But other pelagic species, such as whale sharks, turtles, or large schools of barracudas, are also seen around Layang Layang repeatedly.
Dive sites at Layang Layang
There are over ten dive sites around the island. You can reach all dive sites after a few minutes drive by boat from the dive centre. Usually, the visibility is excellent, with 30 meters and more. The current is very variable but generally quite strong. The three daily dives are accompanied by at least one divemaster.
As Layang Layang is surrounded by steep walls that drop down to 2,000 metres, most dives are wall dives. Accordingly, the chance of seeing large marine life such as sharks, manta rays, and turtles is very high.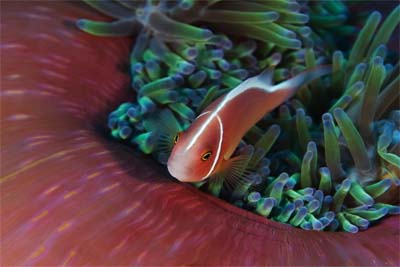 Dogtooth Lairl is an absolute diving highlight. Here you can find everything that makes a diver's heart beat faster. Big and small fishes and intact coral formations are waiting for you. During the season, hammerhead sharks are often seen here.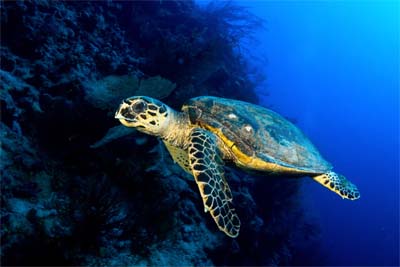 The dive at Crack Reef begins with a vertical gap in the wall that drops to about 40 meters. There is a lot of colourful activity around here. White tip sharks and turtles are among the regular visitors.
There is a slight slope down to a depth of about 15 meters. It is covered with colourful corals. The massive corals have all kinds of things to offer. Crevices and slits provide shelter to some fishes and can be discovered. Now and then, different reef sharks can be seen here. Also, turtles are spotted regularly.
The name already suggests it. D'Wall is a steep wall that drops vertically from one-meter depth to 2,000 meters. Colourful corals and sponges grow on the densely populated wall. Mussels, crabs, and nudibranchs are at home at D'Wall. In addition, you can often see various sharks, including hammerheads, and manta rays here.
Along a wall, you descend to a flat sandy area. On the way down, you will often see reef sharks and tuna. At the bottom, leopard sharks regularly wait for you, and you can get quite close to them. In addition, below is the entrance to the so-called Sharks Cave. On the back side of the cave, you can often find a lot of white-tip sharks.
Intact colourful, and dense corals await you at The Tunnel. Down to a depth of about ten meters, you descend a gentle slope covered with stony corals. Then a wall plunges vertically into the depths. The wall is covered with soft corals and sponges. The colourful and dense corals are also an optimal place for night dives.
Gorgonian Forest offers probably the best chance to see hammerhead sharks. The dive site owes its name to the number of gorgonians lining the steep wall. There are also many impressive stony corals to be found here. Large and small schooling fish, including barracudas, are regular visitors to this excellent dive site, as are reef sharks.
Another excellent dive with tons of healthy soft corals, hard corals, and sea fans awaits you at Navigator Lane. Hammerhead sharks are also regularly sighted here.
Diving at Layang Layang takes place from February to August. From September to January, the weather is worse, and the hotel is closed. The climate is enjoyable throughout the season, with temperatures usually between 82 and 90 °F (28 and 32 °C). Water temperatures are mostly around 86 °F (just below 30 °C). Visibility is also good throughout the season and is rarely below 30 meters.
Hammerhead sharks are the main reason many visitors come here. March to May is the best time to see them. Accordingly, this is also the peak season on Layang Layang Island, and the hotel is booked out quite quickly.
In our article on the best time to visit, you can also find out when you should visit Borneo if you also want to experience nature.
Accommodation and how to get to Layang Layang Island
In Layang Layang, the choice of accommodation is easy. In fact, with Layang Layang Island Resort, there is only one place to stay on the island. It is an upscale accommodation with corresponding prices. A one-week trip, including flight, lodging, and all dives, costs about 2,750 USD.
Bookings should be made early. The resort has only 46 rooms, and seats on the plane are also limited. Especially around the peak season in April, the Layang Layang adventure is always booked up early.
The arrival is only possible by plane from Kota Kinabalu. The flight time is 1 hour. Bookings are made together with the hotel. Please read our report about Kota Kinabalu to find out how to get to KK and what to experience there.
Our recommendation for the island
If you are looking for a unique diving adventure in total seclusion, Layang Layang Island is the place for you. Only a few spots on earth offer an equal chance to see hammerhead sharks. And also outside the hammerhead shark season, there is a spectacle. Many sharks and manta rays pass by the island and are popular motives. Unique underwater worlds with untouched, colourful, and densely populated coral walls put the icing on the cake for Layang Layang. Visibility of up to 50 meters ensures you can observe the great hustle and bustle wonderfully.
It is important to note that there is no decompression chamber on the island. Therefore, you must observe the maximum diving depth of 40 meters. Sometimes the dive computer is controlled, and violations are punished with exclusion.
More diving and nature highlights are waiting for you in Borneo. Have a look at the following.