Danum Valley Conservation Area: a paradise for nature fans
If you're looking for an untouched, authentic jungle experience, you'll find it at the Danum Valley Conservation Area, a 169 sq. mi. (438-km²) area of lowland rainforest about 50 miles (80 kilometers) west of Lahad Datu. The region was spared human intervention even before being designated a nature reserve. Neither deforestation nor poaching have ever taken place here, and so the ecosystem has remained unchanged since the dawn of time. As such, it is considered a primary rainforest.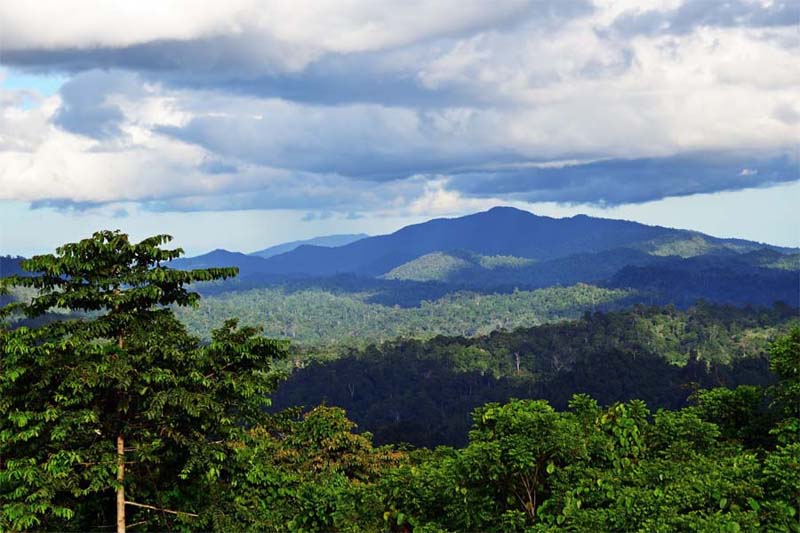 Travelling to the park is already an adventure in itself, as most of the two-hour drive from Lahad Datu is on unpaved roads. You should start paying attention to your surroundings as soon as you arrive at the Danum Valley Conservation Area, as it is not uncommon to see animals on the way to your accommodation.
There are few buildings in the conservation area aside from those used for accommodation, administration and research purposes. These are well-integrated into the rainforest, so if you're lucky, you can sometimes spot animals directly from the terraces.
However, animal sightings should not be your only reason to travel to this remote area. The jungle is extremely dense and vast; because of this, you cannot assume that, by the time you leave, you will have seen all the exciting animals you'd wanted to see. Gibbons and orangutans are among the most likely to be spotted.
Danum Valley: trekking off the beaten track
Instead, those who come to Danum Valley tend to be primarily interested in exploring the rainforest itself and experiencing its pristine beauty. Various activities allow you to do so.
Hiking is the best way to experience the jungle in all its uniqueness, as Danum Valley is home to rich flora and fauna. Almost all of Borneo's rare and endangered animal species live here: orangutans, sun bears and pygmy elephants, to name but a few. There have also been reports of clouded leopard sightings.
Many visitors also come to the Danum Valley Conservation Area for birdwatching. So far, more than 300 bird species have been recorded here, including the endangered Bulwer's pheasant, warblers, and all eight of Borneo's hornbill species. The dense rainforest and the up to 70-metre-high trees make sightings difficult, but the experienced guides will be of great help.
There are a variety of hiking trails and destinations to choose from according to your individual wishes and level of fitness. What they all have in common is their unspoiled nature. You will feel far away from all civilisation and fully immersed in the jungle.
Only one trail can be explored without a guide, both for safety reasons and to protect the nature reserve. You can book specific guided tours, either in advance or when you arrive. It is also possible to book a private guide just for yourself. This is an excellent way to ensure you can do exactly what you want, for example, a hike with a long break at a viewpoint so that you can soak up your surroundings at your leisure.
Tubing and co.: other extraordinary ways to discover the jungle
There is a canopy skywalk in the Danum Valley Conservation Area measuring 300 metres in length, allowing you to explore the rainforest from a height of 15 – 25 metres. Along the Danum River, there are also a few smaller waterfalls; it is possible to swim in the river at various points.
The river also lends itself to another great activity known as tubing. First, you hike upstream before slowly floating down the Danum River on a rubber ring. This is a great way to experience the rainforest from a different perspective – and you don't even have to exert yourself.
Further highlights: sunrise views over the valley and night tours
A sunrise tour is highly recommended. After about half an hour's drive through absolute darkness, you will reach the observation tower, where you can look down on the misty, cloudy valleys of Danum Valley while the sun slowly comes up from behind the mountain – a truly breathtaking sight.
 Jungle sounds such as morning birdsong and monkey calls complement the scenery perfectly. The Sunrise Tour is an experience you will never forget and getting up early is definitely worth it.
A night drive is another must. In the rainforest, everything looks completely different in the dark compared to during the day. Also, many animals are active at night; since they hide away during the day, you hardly get to see them. But at night, your chances are much higher. You will drive through the dark jungle in a jeep; even the moon will not provide any significant light. Everything is so densely overgrown that hardly any light comes through – and the fog that typically prevails at night certainly doesn't help!
You will only have the headlights of the jeep and the guides' flashlights to light the way. The guides will shine their flashlights on trees and bushes in search of orangutans, gibbons, clouded leopards, and other animals. You will need a slice of luck to have really spectacular animal sightings at night, but the trip is worth it even if luck is not on your side.
How to get to the Danum Valley Conservation Area
Danum Valley is only accessible from Lahad Datu. Malaysia Airlines flies there several times a day from Kota Kinabalu and the flight time is about one hour. As you will still have the onward journey to the conservation area ahead of you, we recommend booking one of the morning flights. For the return journey, you should choose one of the afternoon flights.
A bus ride is an inexpensive alternative to the aeroplane. There are suitable connections to Lahad Datu from Kota Kinabalu, Sandakan and Tawau.
If you're travelling on your own, you can take advantage of the transfers offered by your accommodation. If you're travelling to the Danum Valley Conservation Area with a tour operator, you usually don't need to worry about travel arrangements yourself. The tour providers will pick you up at the agreed place and time.
The drive from Lahad Datu takes about two hours. The first few miles are on a main road, but after a short while, you will turn off onto an unpaved and rather bumpy road. After entering the reserve, it will take you another 30 minutes or so to get there, depending on which accommodation you have chosen.
Accommodation in Danum Valley
Access to the reserve is only granted to registered visitors who are staying in accommodation on-site. This is done in order to control the number of tourists and ensure both their own safety and the conservation of the reserve. Sustainable tourism is prioritised here and taken very seriously, with the knock-on effect that self-organised day trips are not possible.
Two accommodation options are available. These are located quite far away from each other; as a result, not all activities are accessible to both sets of guests. The Canopy Walk, for example, is only accessible to guests of the Borneo Rainforest Lodge, while the Sunrise Tour is only offered by the Danum Valley Field Centre. Check with your accommodation or travel provider before booking to find out which accommodation offers which activities.
Danum Valley Field Centre
The Danum Valley Field Centre provides simple accommodation. It was not originally intended for tourism at all, but was actually supposed to serve as accommodation for researchers. However, for a few years now, tourists have been able to stay there as well. Different room categories are offered, from 50-bed dormitories to 2-person chalets.
The 50-person dormitories are separated by gender and only contain bunk beds. The sanitary facilities are very simple. There is a dining room at Danum Valley Field Centre which is about 15 minutes away from the dormitories. The chalets, on the other hand, are more comfortable. In addition to the two beds, they include a private bathroom with a shower and hot water (during the day, at least, before the electricity is turned off at 11 pm). Even these chalets, however, are far from comparable to 4-star standard.
Located in the middle of the jungle, Danum Valley Field Centre is a perfect starting point for hikes, night drives and the Sunrise Tour.
The accommodation offers transfers between Danum Valley and Lahad Datu on Mondays, Wednesdays and Fridays. On the outbound journey, you will depart from Lahad Datu at around 3 pm. The return trip departs from the Field Centre at 8:30 am. However, the bus does not stop at the airport, but rather at the park office in Lahad Datu. We encourage you to get in touch with the Field Centre in advance to confirm departure times and locations.
The Danum Valley Field Centre does not seem to have an official homepage; the homepage danumvalley.info is run by a tour operator. It is also challenging to find contact information. The following addresses have proven the most successful:
Mr. Jikos Gidiman: jkosgidiman@yahoo.com
Mrs. Rosnita Razalie: roserlie2507@gmail.com
The Borneo Rainforest Lodge is an exclusive lodge in the middle of the Danum Valley Conservation Area. It meets the highest standards and offers a high degree of comfort. Situated by the Danum River, there are 30 chalets of different categories for up to 60 guests. All rooms are individually and comfortably furnished and include bathrooms. All rooms except for the standard chalets also have a huge outdoor bathtub with a view of the jungle or the river.
However, this luxury does come at a cost. The packages provided by Borneo Rainforest Lodge start from about 450 USD (360 GBP / 630 AUD) per person per night. The rates for premium villas are almost twice as high. The price includes full board, park fees, guided hikes, and a night drive; you can of course also book additional activities. Transfers to and from the airport are also included. Departure from the airport is at 9:30 am. The return trip departs from Borneo Rainforest Lodge at 1:30 pm.
You can find detailed information about the lodge including pictures and contact details here.
The Danum Valley Conservation Area is one of Borneo's main highlights. If time allows, you should definitely check out the area.
It is important to note that not all activities are offered by both accommodation providers. The two are located quite far away from each other, so certain activities may simply be impossible for one or the other due to the differing local conditions. Therefore, please check with your accommodation before booking whether your desired activities are available or not.
There are also many leeches in Danum Valley, so we highly recommend bringing appropriate protection.
Interested in more Borneo highlights? Here are some suggestions for you: