Holidays in Borneo: itinerary for an unforgettable trip
The main draws of a trip to Borneo are the incredible flora and fauna with million-year-old rainforests, unique wildlife, and beautiful islands with first-class diving spots. Wondering if holidays in Borneo is right for you and what you can experience there? Then you've come to the right place! In this post, we will recommend:
a perfect itinerary for a two-week round trip
sights and national parks in Borneo to check out
how many days to spend on each highlight
which stops to add to your tour if you have more time
what to skip if you only have a few days to spend on the island
Fascinating places to discover on a Borneo round trip
Depending on how much time you plan to spend in Borneo, you can experience the island in more or less depth. In any case, you should plan at least two weeks to visit the main attractions. There's certainly enough to keep you busy for three weeks, but for a two-week vacation, we recommend the following round trip:
Kuching – Mulu Nationalpark – Sepilok – Kinabatangan River – Turtle Island
| | |
| --- | --- |
| Day 1 | Arrival in Kuching |
| Day 2 | Bako National Park |
| Day 3 | Semenggoh Wildlife Centre / Visit to an Iban longhouse |
| Day 4 | Kubah National Park or Kuching Wetlands / Kuching |
| Day 5 | Flight to Mulu / Mulu National Park |
| Day 6 | Mulu National Park |
| Day 7 | Mulu National Park |
| Day 8 | Flight to Sepilok |
| Day 9 | Sepilok Orangutan Rehabilitation Centre / Bornean Sun Bear Conservation Centre |
| Day 10 | Transfer to Kinabatangan River / Kinabatangan River |
| Day 11 | Kinabatangan River |
| Day 12 | Kinabatangan River / Transfer to Sandakan |
| Day 13 | Transfer to Turtle Island / Turtle Island |
| Day 14 | Departure from Turtle Island |
If you have more time, you can add these extra activities to your journey:
| | |
| --- | --- |
| 2 days | Climbing Mount Kinabalu |
| 2 days | Rainforest exploration in the Danum Valley Conservation Area |
| 3-5 days | Diving in Sipadan |
| 2 days | Sightseeing in Brunei |
| As desired | Relaxation on the beach |
Day 1: Starting the holiday in Kuching
Kuching is not one of the island's highlights, and there is not much to discover in the city itself. This certainly does not apply to the surrounding area, though, which is the reason why we recommend starting your holidays in Kuching. Furthermore, direct flights from Kuala Lumpur and Singapore are available, and the city has a variety of accommodation options in all price ranges.
Even though Kuching has few sights to offer, it is still worth spending some time in the city. Use the evenings to check out restaurants and walk along the waterfront. On a free afternoon, you can also take a leisurely boat cruise on the Sarawak River, visit historical buildings and museums, or go shopping.
Day 2: Day trip to Bako National Park
Only 30 – 60 minutes by bus or cab from Kuching is the biggest nature attraction in the area: Bako National Park. Numerous hiking trails allow you to discover the peninsula's diverse vegetation and wildlife.
A particular highlight is the large population of proboscis monkeys; orangutans, however, do not live in Bako Park. You can also spend two or three days on a longer hike exploring the national park if you wish. Sleeping facilities are available in the park. In this simple accommodation, however, you will have to make do with significantly less comfort compared to the city's hotels.
Day 3: Orangutans at Semenggoh Wildlife Centre and visit to an Iban longhouse
Only 45 minutes or so outside of Kuching, there is an opportunity to see free-roaming orangutans. The Semenggoh Wildlife Centre is where the apes used to be rehabilitated and released into the adjacent rainforest. For some years, the centre has no longer been used to prepare the animals for life in the wild. Still, animals rehabilitated in other stations continue to be released into the forest – and as such, many orangutans now live in the woods around the sanctuary.
Two daily feedings take place in case the animals do not find enough food in the woods. The facility is also open to visitors during these feedings. This offers tourists the chance to observe the animals.
Around Kuching, several indigenous tribes still follow a traditional way of living. Mostly they live in so-called "longhouses". These are long wooden houses with a row of adjacent rooms. Each family occupies one area so the inhabitants of the tribe all live next door to each other. The area in the middle of the house is used for common activities or work, or as a meeting place.
We recommend visiting a longhouse of the Iban tribe. The Iban people were particularly feared headhunters, and even today, they still present the skulls of their enemies, murdered decades ago, as trophies.
Day 4: Kubah National Park or Kuching Wetlands National Park
Depending on your preference, you should visit either Kubah National Park or Kuching Wetlands. In Kubah Park, you can discover beautiful flora with palm trees, orchids, and pitcher plants during a hike of several hours. Various small streams and waterfalls fit perfectly into the jungle idyll. Additionally, the park features a variety of rare birds and over 60 species of frog.
If you would prefer a river safari, visiting the Kuching Wetlands is the right option for you. In addition to the beautiful surroundings, you can observe various animals from the boat. These include proboscis monkeys, crocodiles, monitor lizards, and with a bit of luck, even dolphins.
While a visit to Kubah National Park is a full-day activity, half a day is enough for Kuching Wetlands. Both national parks are located near Kuching and can be reached by cab in a short time. You can even take a public bus to Kubah Park.
Day 5 to 7: Adventure in Mulu National Park
On the fifth day, our Borneo itinerary continues to Mulu National Park. This park in the east of Sarawak is very secluded. Traveling to Mulu is only possible by plane – everything else just takes too much time. There are daily direct flights from Kuching offered by the airline MASwings. The flight time is about 1 ½ hours.
In Mulu National Park, there is a lot to discover: first and foremost, beautiful jungle landscapes and gigantic cave systems that are among the world's largest. Some caves also offer different adventure tours for different experience levels for the particularly adventurous among you. Every level from beginner to advanced (with appropriate credentials) is catered for.
But it is also the 50+-metre-high Pinnacles, as well as a multi-day hike on Mount Mulu that make the park what it is: one of Borneo's must-see highlights.
On the eighth day, a longer journey is on the agenda. From Mulu Park, located centrally in the Malaysian part of Borneo, you will travel to Sepilok, located near Sandakan in the northeast.
The departure from Mulu Park is a journey that can only sensibly be done by plane. However, there is no direct flight to Sandakan, so you have to make a stop in Kota Kinabalu. Depending on your personal preference, environmental consciousness, budget, and how much time you have available, you can either take the plane to Sandakan or the bus to Sepilok. It takes approximately 50 minutes by plane and about 6 – 8 hours by bus. Travel time from Sandakan to Sepilok is roughly 30 – 45 minutes, depending on the mode of transport.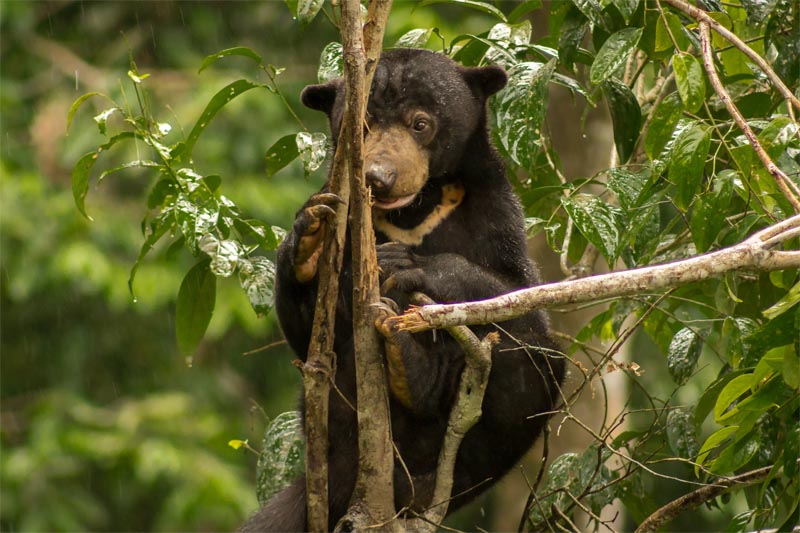 Day 9: Orangutans and sun bears in Sepilok
Right on the outskirts of Sepilok, there are sanctuaries for two particularly endangered species. At the Sepilok Orangutan Rehabilitation Centre, orangutans are rehabilitated and prepared for a life in the wild. And since orangutans are the reason par excellence for many visitors to travel to Borneo, it is worth making a second trip to see the apes in addition to going to Semenggoh Wildlife Centre.
In the immediate vicinity is the Bornean Sun Bear Conservation Centre, a centre for the protection of the rare sun bears. The bears are rehabilitated here for a long time and then, where possible, released into the island's forests. Unfortunately, the rehabilitation process is not always successful, especially when the animals have become too used to humans during captivity. If they cannot be released back into the wild, the enclosures of the sanctuary provide them with an appropriate habitat.
Day 10 to 12: River cruise on the Kinabatangan River
On the tenth day, our Borneo round trip takes you to the Kinabatangan River. The second-longest river in Malaysia is 350 miles (560 kilometres) long. It rises deep in the country's interior and flows through lush jungle landscapes to the Sulu Sea. The biodiversity of the area is incredibly rich: it is even said that only in the Amazon in South America can even more animals be found.
After a 2 ½-hour drive, you will board a boat for the first time in the afternoon. With a bit of luck, you will see orangutans, proboscis monkeys, pygmy elephants, and even crocodiles in the wild. Also, many rare birds live along the river, some of which are endemic to Borneo.
It is a truly unique experience to explore the rainforest landscapes and wildlife from a boat. After the long hikes through Bako or Mulu, it is a welcome change – although, of course, walks through the jungle are also possible at Kinabatangan.
At noon or in the afternoon on the twelfth day, you will return to Sandakan. The drive there takes about 3 hours.
Day 13: Turtles on Turtle Islands
Pulau Selingan, also known as Turtle Island, is one of three islands that make up the Turtle Islands National Park. This island is one of the best places in Borneo to see turtles. The journey there takes a little under an hour from Sandakan by speedboat. Day trips are impossible, so you have to stay on the island overnight – but this is good, because the female turtles usually come to the beach after dark to lay their eggs.
You will set off on the short trip early in the morning. After you arrive, you can spend the day relaxing at the beach, snorkelling in the crystal-clear sea or learning more about green sea and hawksbill turtles at the Conservation Centre.
In the evening, you will have the opportunity to watch the turtles laying their eggs in the sand. Afterwards, rangers collect the eggs so the babies can hatch in safety. But an even more magical experience is seeing the park rangers release newly hatched turtles and watching them waddle into the sea.
Some countries have been strongly advising residents not to travel to the region around Turtle Island for several years due to kidnappings of tourists and one murder by Filipino rebels in the area. Please check current security advisories for your country before booking your holidays.
Day 14: Departure from Sandakan
The next morning, you will return to Sandakan. Our suggested itinerary for a two-week round trip of Borneo ends here. From Sandakan, there are flight connections to Kuala Lumpur or Kota Kinabalu.
Sandakan is also one of the regions which some states strongly advise their residents not to travel to due to the aforementioned incidents.
Extra travel options for different preferences
If you will be travelling for more than two weeks or if one of the suggestions for the tour doesn't really float your boat, we have a few extra travel options for you.
Mount Kinabalu climb (2 days)
Mount Kinabalu is located in Kinabalu National Park, about two hours from Kota Kinabalu. At over 4,000 metres, it is the highest mountain in Southeast Asia. If you enjoy extreme hiking, are a mountain climber, or want to push your limits tackling the summit for the first time, a two-day tour climbing Kinabalu is a perfect fit.
Million-year-old jungle in Danum Valley (2 days)
Danum Valley Conservation Area is located south of the Kinabatangan River. It is a protected area that has been spared from deforestation, so it is possible to see up to 130-million-year-old original rainforest. As you can imagine, the flora and fauna are correspondingly lush. If you have time and don't mind the slightly more time-consuming journey, a two-day stopover in Danum Valley is an excellent addition to your Borneo holiday.
You can travel there from Lahad Datu and the journey takes about two hours. Getting to Lahad Datu is possible by plane from Kota Kinabalu or Sandakan. You can also travel from Sandakan by bus.
World-class diving in Sipadan (3 - 5 days)
Are you a diver? Then Borneo is an ideal destination for you. Not only does the island have exciting rainforests to discover but it is also one of the top diving destinations in the world. Sipadan in particular, located about 22 miles (35 kilometres) off the east coast of Sabah, is world-famous.
Going diving and not seeing turtles is practically impossible in Sipadan. On the contrary, you will encounter about five to ten turtles on almost every dive. Sharks, barracudas and manta rays are also seen on many dives.
Sipadan itself has no accommodation, so you will have to spend the night on one of the surrounding islands (e.g. Mabul). Furthermore, to protect the underwater ecosystem, there are only a limited number of permitted visits per day. Usually, you need to be on-site for three to five days to be allowed to dive one day in Sipadan.
Sipadan is also among the regions which some states strongly advise their residents not to travel to due to incidents in the past.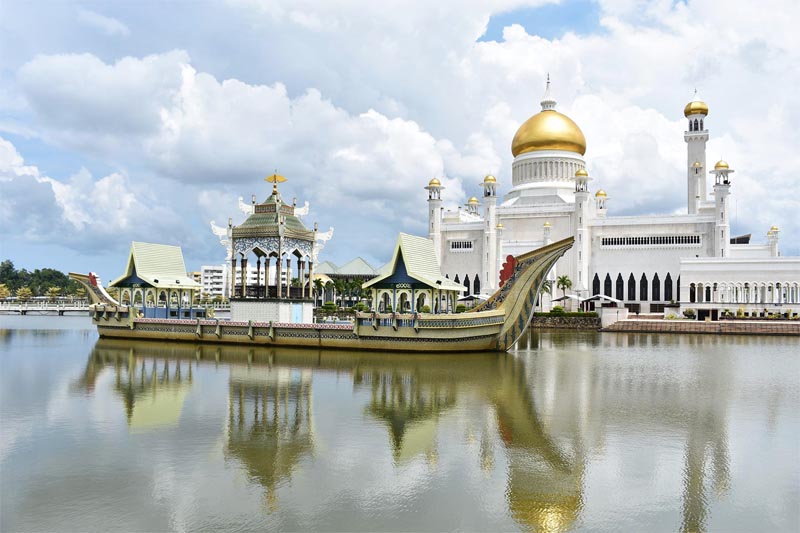 Sightseeing in Brunei (2 days)
Would you like to stay in one more city to do some sightseeing? Then the tiny country of Brunei is a good place to visit. Located centrally on the north coast, Brunei can be very easily integrated into your Borneo vacation. The state airline, Royal Brunei, flies several times a week from the capital Bandar Seri Begawan to Kota Kinabalu or Kuching. Other airlines offer daily flights to Singapore and Kuala Lumpur.
Nature and wildlife are scarce in Brunei, and there is only a modest number of religious and historical highlights. Therefore, two days is enough for a visit. You should visit the following sights when you are there: the Royal Regalia Museum, the Sultan Omar Ali Saifuddien Mosque, the Kampong Ayer water settlement, and the Jame' Asr Hassanil Bolkiah Mosque.
Relax for a few days at the beach
Do you also want to spend some time relaxing on the beach during your trip, putting your feet up and reflecting on all your experiences at the end of your Borneo holidays? Then spend some time at the beautiful beaches in Borneo – of which there are several!
The best way to integrate a stay at the beach is while you're in Kota Kinabalu or on the island of Gaya, which is located off KK. From Kota Kinabalu, you have optimal flight connections to all destinations on our round trip. Even if you want to spend some days at the beach at the end of your journey, Kota Kinabalu is perfect. There are good return flight connections, for example, via Singapore or Kuala Lumpur.
Frequently asked questions about holidays in Borneo
As you can see, we have enjoyed all our Borneo trips so far. We hope you are also hooked now and want to visit the adventure island too. Below you will find answers to a few more important questions about vacations in Borneo.
How much time should I plan for my holidays?
We recommend spending at least two weeks in Borneo. If you have even more time, all the better – then you can experience Borneo in even more depth with some of our additional travel options. If you have less than two weeks, you will have to decide between certain highlights and skip some stops on the tour completely.
I only have one week. What should I do?
One week (or less) is too little time to truly appreciate the many highlights Borneo has to offer. If your schedule really doesn't allow more time, you should choose one of the two Malaysian states. Either you could spend the week in Sarawak discovering the highlights around Kuching and the caves in Mulu National Park, or you could fly to Sabah and check out the sanctuaries in Sepilok, go on a river safari on the Kinabatangan, and visit Turtle Island.
What is the best way to get to Borneo?
There are only a small number of international flights to and from Borneo. These are mainly to Singapore, along with a few others to China, Japan, South Korea, and Thailand. Long-haul flights are only offered by Royal Brunei, with flights from Melbourne Dubai and London (via Dubai) to Bandar Seri Begawan.
For travellers from the US, Tokyo and Seoul are usually the best stopovers for connecting flights. Flight times vary greatly depending on your departure airport. From the West Coast, the fastest connections take about 20 – 21 hours. From the East Coast, only a few flights take less than 24 hours to arrive in Borneo.
Visitors from Australia and Europe can mostly travel fastest via Singapore or Kuala Lumpur. The travel time from Sydney or Melbourne is at least 12 – 13 hours. From Europe, the journey to Borneo takes a minimum of 17 – 18 hours.
When is the best time to travel?
You can travel to Borneo all year round. However, some times are more suitable than others – although these are not identical in all areas, as the island is huge.
The temperatures are consistent all year round at about 30 – 32 °C (86 – 90 °F). The humidity is also constantly high at about 80%. Therefore, rainfall is the most crucial factor when deciding when best to travel. March to September is the dry season, so these months are most suitable for a trip. In the rainforest, however, you should expect heavy downpours even during the dry season.