Borneo's most beautiful beaches
Borneo is admittedly not the first island that comes to mind when you think of picturesque beaches. Nevertheless, if you're looking to spend a few days relaxing on the beach during your trip, there are many great options. The Malaysian part of Borneo, Sabah especially, has several beautiful beach destinations which, due to their locations, can easily be combined with other destinations so as to discover Borneo's unique nature.
Pom Pom and Mataking Island
On Pom Pom and Mataking Islands, you can enjoy the most beautiful beaches in Borneo. The two islands are also called the "Maldives of Malaysia" – and for good reason, what with their fine, white sandy beaches and turquoise blue water. The high-class resorts on the islands will also contribute to making your stay unforgettable. They are located in southeastern Sabah off Semporna, close to the Philippines. Due to attacks in the region, we encourage you to consult the safety information at the end of this article.
Kudat - the "Tip of Borneo"
Kudat is a town in northeastern Borneo, about 110 miles (175 kilometres) from Kota Kinabalu. Kudat is only a few miles from the island's northernmost point, referred to as the "Tip of Borneo". The area is one of the island's top destinations if you want to come for a beach vacation. There are several fine sandy beaches on both the east and west coasts. The most beautiful are probably Bak Bak, Kalampunian and Kelambu.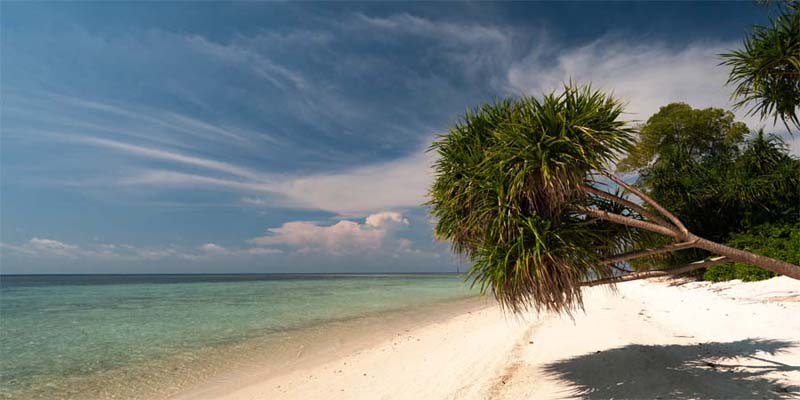 Lankayan Island is a small, stunningly beautiful island in the Sulu Sea off northeast Borneo. It can be reached from Sandakan by speedboat; the trip takes about 90 minutes. The island is covered with dense tropical vegetation and surrounded by a fine white sandy beach and clear water. This secluded island is, therefore, a perfect destination if you want to relax peacefully on the beach. The island is also a paradise for divers.
Lankayan is located in a marine protected area. The protection of turtles is especially critical here; they come to nest on the beach and the young turtles hatch between June and September.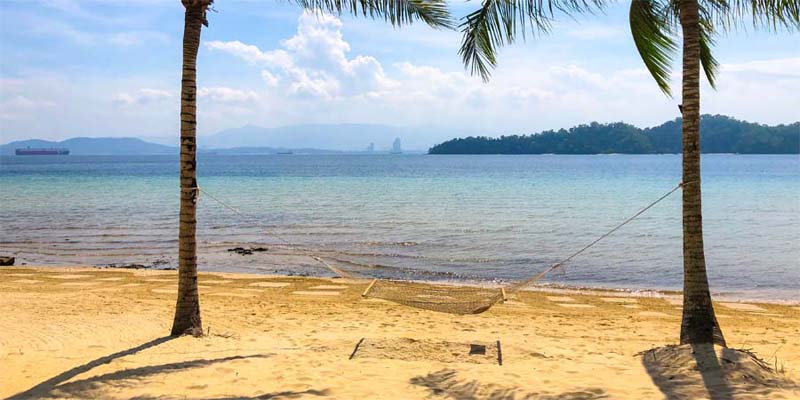 Islands in Tunku Abdul Rahman Marine Park
Tunku Abdul Rahman Marine Park, situated off Kota Kinabalu, is a group of five small islands: Gaya, Mamutik, Manukan, Sapi and Sulug. They all have great sandy beaches and are covered with dense vegetation further inland. On some of them, there are even hotels you can stay at. Alternatively, you can make a detour to Tunku Abdul Rahman Marine Park from KK and enjoy a quiet day at the beach. The protected area will also be of interest to divers.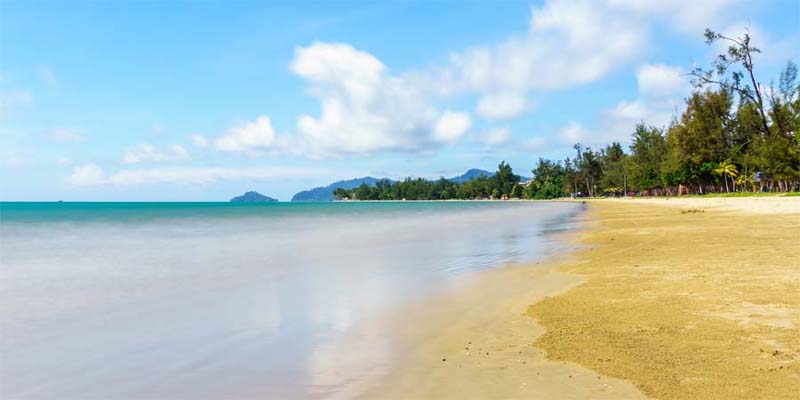 Beaches near Kota Kinabalu
There are a few beautiful beaches in the Kota Kinabalu area that lend themselves to spending a few days relaxing. The most famous of these is probably Tanjung Aru Beach. As this beach is located directly in the city, it can get a bit crowded.
Watching the sun set at this beach is a wonderful experience, but even then, you will not be alone – in the evenings, the coast is usually overrun with tourists. Afterwards, you can get yourself something to eat in one of the numerous restaurants in the immediate vicinity. A bit further north, you will find the beaches of Karambunai and Tuaran. Although there are typical beach hotels here, they are more secluded, and the beaches are not so crowded.
Pulau Tiga is a small island off the north coast of Borneo. Together with two other nearby islands, it makes up Pulau Tiga National Park. It has become famous due to being featured in the reality TV series Survivor. Pulau Tiga is also covered with very dense tropical vegetation. However, there are beautiful sandy beaches on some corners of the island. It is also worth going diving in the surrounding marine area.
Tusan Cliff Beach near Miri
Tusan Cliff Beach is about 45 minutes away from Miri. It is a beautiful, fine sandy beach that is usually almost entirely empty. It used to be known for a rock formation, which has unfortunately now collapsed, that looked like a horse's head drinking. Nevertheless, the beach does still offer a unique spectacle: the so-called "blue tears", where the sea glows neon blue in certain places.
Located far to the west of Sarawak, Sematan offers the state's most beautiful beaches. There is little accommodation for tourists in the area and accordingly, the beaches are not well-frequented by tourists.
The islands off Sabah's east coast are well-known among divers. The protected area around Sipadan is considered one of the most beautiful diving areas in the world. Since there is no accommodation, most divers stay in Mabul. Between dives, you can relax on one of the beautiful beaches on the two islands. For non-divers, however, they are not necessarily essential stops. Due to attacks in the region, we encourage you to read the travel warning below.
In the past as well as recently, there have been kidnappings and attempted kidnappings in the marine area between the Southern Philippines and Sabah. This area includes the islands off the coast between Kudat and Tawau as well as the coastal regions. Many countries have therefore been advising their citizens against travelling there for years. Please consult the travel and security advice of the relevant ministry in your home country.