Sipadan Island and its world-famous marine life
Sipadan is an absolute diving paradise and undoubtedly Malaysia's most exciting diving destination. It is known worldwide for its rich, intact and diverse ecosystem. Strong currents pass by the island, making it an optimal place to encounter large marine animals.
Over 3,000 species of fish and well over a hundred species of coral have been discovered in Sipadan. Shark sightings are guaranteed on almost every dive here. Whitetip reef sharks, grey reef sharks, thresher sharks, whale sharks, and hammerheads can all be seen, depending on the season. Great numbers of turtles also live in the waters around Pulau Sipadan. It is not uncommon to see 10 or 15 turtles of different species during a single dive.
Other highlights include barracuda and bigeye jacks, which swirl through the water in schools of hundreds. Additionally, when deep currents bring up plankton from the shallows, manta rays appear. Besides this, Sipadan also has much to offer macro fans. The pristine reefs are teeming with life: you can find nudibranchs, triggerfish, moray eels, lionfish, and countless more species.
Sipadan is a small island in eastern Borneo in the waters of the Celebes Sea, located about 22 miles (35 kilometres) off the coast of Semporna in one of the world's richest marine ecosystems. Corals have formed over thousands of years on a volcano situated about 600 metres below the water's surface. This has created one of the most exciting diving areas in the world.
Diving sites near the island
Around Sipadan Island, there are more than ten diving sites, all of which have a unique charm. The diving spots are characterised by steep walls, some of which reach all the way down to the seabed, and strong currents. Because of these steep walls, some sites are located very close to the shore. You wouldn't think there could be interesting marine life so close to the island, but you'll be proven wrong.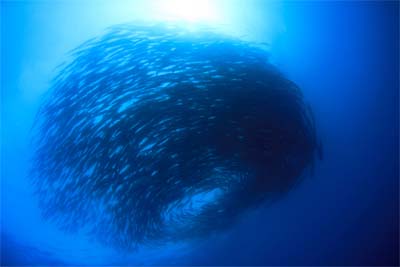 The name says it all: this diving site is named after the barracudas that are always found here. They often appear in schools of hundreds or thousands and form tornadoes.
Barracuda Point is a typical wall dive that leads to a channel at a depth of 18 metres. There is a powerful current, so you will be pushed along very quickly. At the bottom, you will discover a variety of macro life. Barracudas can usually be seen at the end of the channel. In addition to barracudas, you can see blacktip reef sharks, eagle rays, and, of course, a multitude of turtles.
It is with good reason that Barracuda Point is one of Sipadan's most popular diving sites. The chance of seeing "barracuda tornadoes" is quite high; if you are lucky, you will be able to enjoy this unique spectacle.
South Point is about a 15-minute boat ride from Sipadan Jetty. Typically for Sipadan, this dive starts at a wall before a ledge awaits you at about 20 metres. Beyond the ledge, however, there is a steep drop into the depths of the Celebes Sea.
South Point is also another great spot for big fish sightings. Strong currents attract various sharks, including reef sharks, hammerheads and thresher sharks. Eagle and devil rays can often be spotted; manta rays sometimes can be, too.
A dive without a turtle sighting is almost impossible at South Point. Quite the opposite, in fact: usually, you will see ten or more. Countless reef fish add additional colour to the reefs – which are colourful enough by themselves – thereby completing the South Point experience.
Sipadan Jetty is located directly on the beach at the northern end of Sipadan. It is not far from here to the first diving site. It goes abruptly down to the seabed, at more than 600 metres in depth.
A spectacular wall dive with lots of colourful corals awaits. You can marvel at the hustle and bustle in the lush, colourful corals, and the highlights include white-tip reef sharks, rays, schools of barracudas and various other fascinating species. Occasionally, leopard sharks are also spotted at Sipadan Jetty.
The dive to Turtle Cavern begins a few metres from the beach. At a depth of about 20 metres, there is a huge cave system known as Turtle Cavern. According to local guides, turtle skeletons have been found here many times in the past; therefore, it is said that they come here to die.
You will see turtles in abundance outside the cave too – but they are not the only highlights. You can also spot large schools of barracuda and bigeye jacks here, as well as white-tip reef sharks.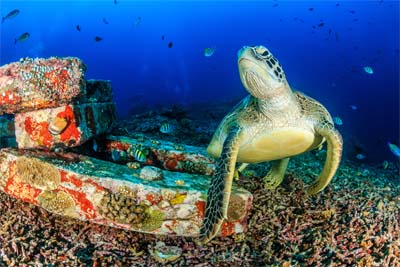 West Ridge is located on the west side of Sipadan. As the walls here drop straight down to a depth of about 2,000 metres, West Ridge offers exciting steep wall dives. With visibility often being around 40 metres, you can easily observe marine life at a depth of up to around 60 metres. You can sometimes see hammerhead sharks here.
We recommend diving here in the afternoon for the best possible view into the depths. A further advantage is that the sun perfectly illuminates the colourful walls and makes them shine. Turtles are also regular visitors to the west side. Sharks, on the other hand, are less common here than at the other diving sites.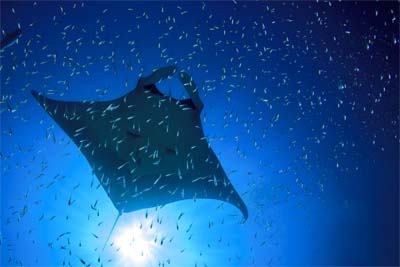 Mid-Reef is located on the east side of Sipadan Island. After a 10-minute boat ride from the jetty, you will reach a very colourful diving site.
With diving depths as shallow as 15 metres, the main focus is on the colourful corals that provide a habitat for various life forms. Manta rays and devil rays also pass by here regularly.
You can often spot barracudas as well. With a bit of luck, you will also experience the incredible spectacle of the barracuda forming a big tornado and swirling through the deep blue. As always in Sipadan, turtle sightings are almost guaranteed.
In principle, diving off Pulau Sipadan is possible all year round. However, the best times are in the dry season, from March to June, or in October and November. These times are when diving conditions are best: the sea is usually calm and visibility is often around 40 metres. This is also a good time for sunbathing, as the weather is generally very good and temperatures are nice and hot. The water around Sipadan Island is pleasantly warm all year round and is perfect for a swim in between dives.
December to February is the rainy season. Although it doesn't rain the whole day, the regular rainfall inevitably leads to a considerable deterioration in visibility. Visibility is also often worse in August and September, as violent storms can occur in the region at this time.
Green and pine turtles come to the island between April and September to lay their eggs. If you are here at the right time and have luck on your side, you can catch this spectacle too.
Looking to combine diving with Borneo's other natural highlights on your trip? You can find more information about the best time to travel to Borneo here.
Accommodation on Pulau Sipadan
Sipadan is located about 22 miles (35 kilometres) south of Semporna in the Celebes Sea. There is no overnight accommodation on the island. Diving trips will therefore involve travelling to Sipadan from surrounding islands or the mainland. There are many different possibilities, from homestays costing a few dollars per night to luxurious resorts with rates of several hundred dollars a night. Most divers spend the night on nearby Mabul Island, where several accommodation options are available.
When choosing your accommodation, you should ensure that it includes permits for Sipadan. Most accommodation includes one day of diving in Sipadan if you book for at least three or four nights. However, this cannot be guaranteed in advance. The longer you stay, the higher your chances will be of being able to dive.
Fortunately, the immediate vicinity of Sipadan also features other first-class diving sites. Alternatively, there are liveaboards in the area. Booking early is highly recommended, especially during the peak season from March to May, as accommodation is booked out quite quickly at this time.
How to get to Sipadan Island
The best way to get to Sipadan is via Tawau airport. From there, there is a good road connection to Semporna, which is about 50 miles (80 kilometres) away. The drive takes about an hour. From Semporna, it will take another 20 – 25 minutes by boat to get to Sipadan. If you are going to be based on the mainland, the diving centre will coordinate the boat trip. If you are staying on a neighbouring island, you should ask your accommodation how best to get there and back.
Travel warning for the area around Sipadan
In the past as well as recently, there have been kidnappings and attempted kidnappings in the marine area between the Southern Philippines and Sabah. This area also includes Sipadan Island. Many countries have therefore been advising their citizens against travelling there for years. Please consult the travel and security advice of the relevant ministry in your home country.
Every diver should experience the incredible underwater diversity and density of Sipadan while in Borneo. The multitude of turtles is absolutely stunning, sharks make for awe-inspiring encounters, and tornadoes of barracudas are another major highlight. There are not many diving sites in the world that offer you such a high chance of seeing all of these in a single dive. The vitality of the intact, colourful corals completes this unique experience.
The excellent visibility and steep walls are very deceiving. You will be deeper down than you'd expect more quickly than you might think – so in between all the exciting activities, don't forget to keep an eye on your dive computer. The same goes for your pressure gauge, because time also goes by much faster than you realise.