Diving in Tunku Abdul Rahman Marine Park
The Tunku Abdul Rahman Marine Park (TARP) is located only about 15 to 20 minutes by speedboat from Kota Kinabalu. It was designated as a national park in 1974 and covers 49 square kilometres. It includes the five islands of Gaya, Mamutik, Manukan, Sapi and Sulug. If you find the islands east of Sabah too quiet and secluded, or if you don't want to go there for other reasons, TARP is an excellent alternative. You can find perfect diving conditions here, which can be combined with the hustle and bustle of Kota Kinabalu.
In the Tunku Abdul Rahman Marine Park, both muck divers and fans of big fish will get their money's worth. Schools of barracudas, turtles, sharks and rays can be seen just as often as various pipefish, squid or nudibranchs. In total, almost 400 species of fish have been counted in TARP. The park also offers the chance to see whale sharks in the appropriate season. The underwater flora is in impressively good condition and lush.
The water is consistently warm throughout the year. The water temperature usually ranges from 80 to 86 °F (27 to 30 °C). Visibility is up to 15 meters.
Dive sites around the islands
Diving in TARP is very varied. This is partly because of the diverse marine life. You can start your diving day with muck diving, sight whale sharks or other big fish on the second dive and end the day with many small fish in colourful reefs.
But also, the large selection of dive sites plays an important role. There are over 30 within the park alone. A few more are located close to the TARP. The diving conditions are relatively easy and, therefore, suitable for beginners. Most dives are in the 15-22 meter range, and the current is usually relatively low.
Most dive sites are gently sloping coral reefs, mangrove areas and sandy muck spots. Wall slopes, on the other hand, do not occur here. Below we present a few exciting dive spots.
Sapi Reef is the house reef of Sapi Island and is located directly at the jetty. Large parts of the dive area are quite shallow. Here you can snorkel very well. At Sapi Reef, there are always reports of encounters with blue spotted rays. In addition, stonefish, barracudas and octopuses live there.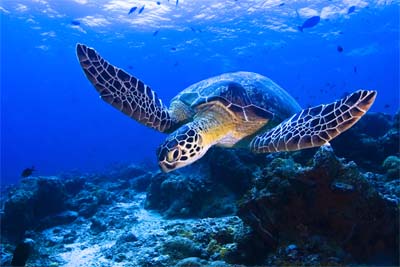 Police Bay is located near Gaya Island. It is a slowly sloping reef that goes down to about 30 meters. Colourful corals and sea fans characterize the slope. Many reef fish live in it, but you can also see barracudas or turtles from time to time.
Sulug Reef, located near the island of the same name, goes from 10 meters down to almost 30 meters. Great intact coral, schools of barracudas, jacks, and puffer fish await you.
At a depth of about 20 meters, Mid Reef is a wreck on the bottom lined with sponges, anemones and hard corals. The usual reef fish, seahorses and nudibranchs are found here.
South Edgell Patch is located just outside the Tunku Abdul Rahman Marine Park and is about 10 minutes from Sapi. It is arguably the best dive site in the area. It ranges from 10 to 30 meters deep, and the current is usually a little stronger than in the park itself. The marine diversity is incredible, especially friends of big fish will love the spot. Mantas and whale sharks are the stars.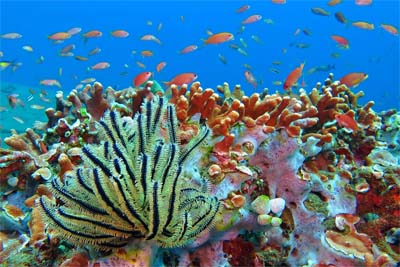 This dive spot is located near the island of Sapi. It is suitable for beginners and advanced divers. Visibility is above average, and large parts of the area are around 15 meters deep. It is teeming with many different corals and sponges and their inhabitants. Among them are also lionfish.
The islands in the Tunku Abdul Rahman Marine Park have even more to experience
Within the park boundaries, however, there is even more to discover. Gaya Island, the largest of the five islands, stands out a bit. Gaya is covered with lush tropical rainforest, and hiking trails across the island invite you to explore it. There are some beautiful beaches where you can linger wonderfully on the coast. Snorkelling is also possible in many places. Gaya Island is even inhabited. On the shore of the sea, there is a small village on stilts, where some locals live. It is also worthwhile to stop by here.
We recommend island hopping if you want to discover more than just one island. You can book different tours at the Jesselton Jetty, where several islands are visited by boat in one day. Since the smaller islands don't have much to discover, the main focus is seeing the various beaches. But it is worth it because white sandy beaches with clear water are waiting, which are often relatively deserted and thus allow a quiet beach visit on a deserted island. So even for non-divers, there are many exciting things to do in this idyllic island paradise.
Diving in Tunku Abdul Rahman Marine Park is possible all year round. However, the best conditions are during the drier period from January to April. During the windier and rainier months from May to December, visibility is a bit worse. After a monsoon, it may well drop to 3 to 5 meters. In addition, the water is somewhat colder during the rainy season, although it is still pleasantly warm at around 80-52 °F (27-28 °C). Approximately from February to April is whale shark season. February and March are, therefore, the best months.
Tunku Abdul Rahman Marine Park - Accommodations and how to get there
There are some excellent accommodations on the islands in the park itself. They usually offer dives and cooperate with dive centres in Kota Kinabalu. But also in the city, you can stay very well and then leave from the Jesselton Jetty for the dive trips.
The journey to the islands is only possible by boat from Jesselton Jetty. Several operators sell tickets and tours directly at the jetty. If you have booked one of the hotels in the park, they will organize the transfers.
Our recommendation for the TARP
Diving-wise, Tunku Abdul Rahman Marine Park cannot compete with the world-class dive sites in eastern Sabah. So if you are free in your travel planning, you should go to Sipadan, Lankayan or Layang Layang. Nevertheless, you can also dive very well in TARP, and the area offers the advantage of exploring Kota Kinabalu and the surrounding area in the evenings or on non-diving days.
If you stay in one of the hotels in the park, you should check in advance at which time the boat crossing will take place. Usually, there are two or three trips per day at fixed times. Keep these in mind when booking your flights.
Borneo has many more highlights to discover. Have a look at the following.