Fairy Cave and Wind Cave: two very different caves worth a trip
Only about 40 kilometres southwest of Kuching, near the small town of Bau, are Fairy Cave and Wind Cave. The two caves are only a few kilometres apart. Even though Wind Cave is less impressive in direct comparison, the close distance and yet very different caves make it a good idea to visit both during a trip to the area. If you travel by car, both caves can be discovered easily in half a day, including the drive from and to Kuching.
Fairy Cave is an impressive and varied cave
Arriving at Fairy Cave, you first have to climb up some fortified steps before getting to the cave's entrance. Fortunately, today there is a kind of staircase in front of it. In the past, only a very narrow, extremely steep, and dangerous staircase led into the cave. To enter Fairy Cave, you must pass through a narrow passage and climb a steep wooden staircase. The steps are very slippery, so sturdy shoes are recommended.
Once you leave this part behind, you will enter the large Fairy Cave. The view is fantastic. Sufficient light enters this part of the cave through an opening. Thus, everything is well visible and many things are overgrown with green. This is an excellent contrast to the grey and brown rocks, paths, and viewing platforms.
The paths and steps are well-paved in Fairy Cave. Only the moss and guano (bat droppings) make everything a bit slippery. In any case, it is worth walking through the whole area. The cave and its size look very different from different points of view.
You can also see stalagmites and stalactites in Fairy Cave
If you want to go deeper into the cave, you must climb up some stairs first. There you will see many stalagmites and stalactites. Sometimes they are up to 3 meters tall. The shape of some of them reminds one of animals and other creatures. Deeper in Fairy Cave, for example, is a stalagmite that resembles Guan Yin, the Chinese goddess of mercy. In some places, incense sticks are stuck on the floor or walls as locals pray there.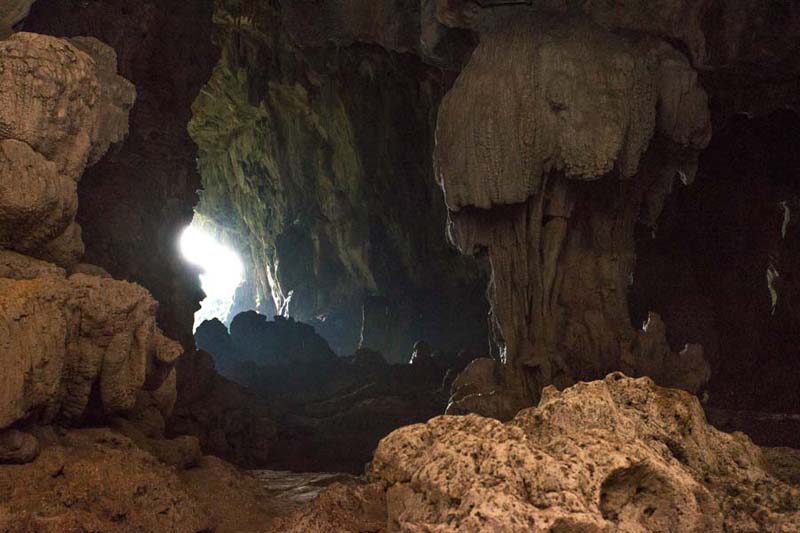 Compared to the large front part of the cave, this is an entirely different world. In the beginning, a little light shimmers from the large opening, but later it gets darker and darker. A flashlight is therefore advisable no matter what. In Fairy Cave, bats, birds, small insects, and even snakes can be seen.
A visit to the nearby Wind Cave is also worthwhile
Only a few kilometres away from Fairy Cave is Wind Cave, another cave worth visiting. Even though Wind Cave is less impressive, it's worth visiting both caves on a trip to the area. Wind Cave is a pipe-shaped cave through which a light wind always blows. That's where it got its name.
Excavations have shown that the cave was inhabited in the past. For example, explorers found earthenware vessels, coal and sea shells there. Today, various species of bats, black-nesting salangans, swifts, and multiple species of snails live here.
The passages of Wind Cave are safely accessible via a 1,000-meter-long wooden path with railings. However, you will need a flashlight after only a few meters because the cave is not lit.
Besides the species mentioned above, there are many stalagmites and stalactites to explore in the cave, which is about 60 million years old. In some places, the stalactites hanging from the ceiling and rising from the floor have even grown together to form a column. That's when they are called stalagnates.
Wind Cave has been declared a nature reserve to protect flora and fauna in and around the cave. In the adjacent limestone forest, there are several rare trees and shrubs. Among them are, for example, some scarce palm trees. In addition, many different bird species, squirrels, and shrews live here and along the river.
How to get to Fairy Cave and Wind Cave
The easiest way to reach the two caves is by car from Kuching. It is about 45 kilometres, and the driving time is approximately 45 minutes. Sufficient parking facilities are available. If you arrive by cab, you should ask the driver to wait, because cabs are otherwise hard to get here for the return trip.
Alternatively, you can take bus line 2 from Kuching to Bau for very little money. From there, line 3A goes in the direction of Wind Cave. Tell the bus driver that you want to go to Wind Cave. He will let you off at an intersection, from where it is about 10 minute walk to the cave. From Wind Cave, it will take you another three-quarter of an hour to get to Fairy Cave.
The two caves promise a varied half-day excursion. The tour is recommended for those not visiting other caves during their trip to Borneo, such as those in Mulu National Park. However, if you intend to visit other, larger caves, Fairy and Wind Cave may not be worth it.
Sturdy, non-slip shoes are recommended in any case. It would also help if you had a flashlight with you. Since there are no catering facilities in the area, taking food and drinks with you is advisable.
Since the journey from Kuching is relatively short and you don't need much time for the two caves, staying overnight in the area is unnecessary. We recommend planning the tour from Kuching.
In addition to the two caves, Borneo offers other highlights. Maybe you are interested in one of the following?